Pelletizing
Pelletizing is a process that consists of the agglomeration of finely ground mineral by the addition of binders such as bentonite and water to give it the shape of spherical particles (green pellets) which are hardened by cooking in rotary kilns.
Main brands: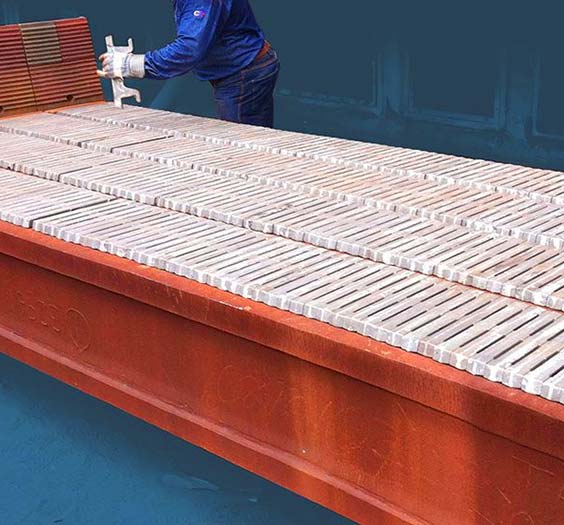 Main wear mechanisms of parts present in pelletizing
Cooling oven
Process that occurs in the ring cooler after the pellets fall from the oven. A recuperative cooling and a final one are carried out. The ring cooler has the function of transporting a litter of calcined pellets through three cooling zones and is basically a ring-shaped grill. The pellets from the furnace fall into the cooler loading area and are stacked in a hopper, to then be leveled the pellet layer forming a bed of constant thickness.
The product then enters the cooling zone where there is an upward heat aspiration flow, recovering 80-90% of the heat applied to the pellets. The hot air leaving the bed is the main element of heat exchange used in the preheating and drying process and is also used in the rotary kiln.
Funvesa identifies and controls the working conditions that generate wear on the oven components. With this, it proposes the increase of the useful life of its components through the redesign and improvement of the alloys, applying the IPSCODE method that we detail below:
Exposure to high temperatures
Continuous thermal shocks
Thermal fatigue and / or granular aging
Abrasion by air flow, induced draft, dragging many particles in suspension at high temperatures.
Presence of oxidizing atmosphere, sulfurous and decarburizing gases.
Alloys
HH Heat Steel:
Maximum working temperature 1090 ° C (2000 ° F)
Tensile strength: 75,000 PSI
Yield Point: 35,000 PSI
Elongation (% Min): 10
Good mechanical and oxidation resistance at temperatures between 460 ° – 980 ° C (1400 ° – 1800 ° F)
High creep resistance
In a cast casting condition (as cast), it presents an austenitic matrix containing eutectic chain primary carbide (at the grain edges) and various carbide particles.
Results
The historical standard performance of 2,000 bars of Line 1 of SHOUGANG HIERRO PERÚ installed on various cars was optimized by 45%. The 12 to 16 month standard shelf life of a CIA pellet furnace link evaluation lot was exceeded. MINERA DEL PACIFICO, CMP of Chile.